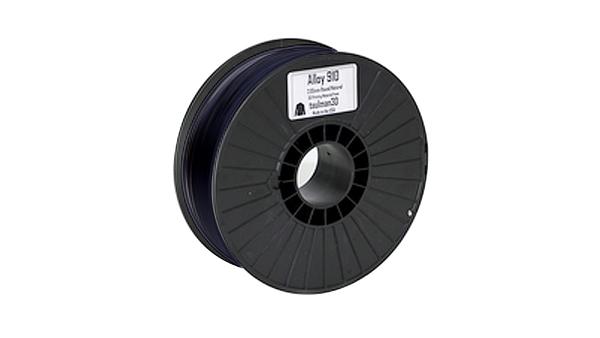 Need accessories to go with your 3d printer? Check our Top 6 Essential 3D Printer Accessories.
Color: Black (the Black is a super dark blue as we do not use carbon for black due to it's effect on strength);
Specifications: 1.75mm/1kg.
Super Hard Alloy 910 is a measurable advancement in 3D Printing materials technology from taulman3D. taulman Alloy 910 as stiff as PLA yet retains the durability of a hard Nylon. Alloy 910 is the combined effort of chemical companies, extrusion manufactures and taulman3D to specifically develop a single material to meet as many high performance 3D Printing needs as possible. With a combined tensile strength higher than the strongest co-polyesters, the durability of Nylons, a shrinkage factor that rivals our t-glase, a vast range of chemical resistance and a ~82C working range, you now have one solution easily printable at 250C-255C.
Get the Printing Settings
Technical Data Sheet
Safety Data Sheet
For delivery of the USA, expedited delivery availability (additional cost may apply), or additional questions, please contact sales@raise3d.com or 1-888-963-9028.
The shown price excludes tax, which will be calculated during check out.